About Storytelling in VR
"2015 was the year during which we learned how to use the technology. 2016 is the year to figure out how to use this new medium to tell a story."
The first generation of VR film directors carried out an interesting discussion on storytelling in virtual reality during the last panel of the VRLA conference.
The panel included Annie Lukowski, Director/Writer/Producer & Co-Founder of Vanishing Point Media, Bryn Mooser, Co-founder of RYOT, Andy Cochrane, Digital/ Interactive Director at Mirada Studios, Andrew McGovern, Executive Producer at IM360, and was moderated by Jonnie Ross, Co-Founder of VRLA.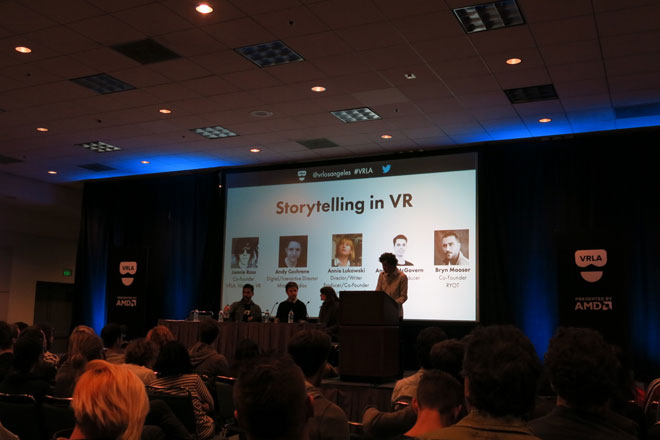 Developments in VR bring a whole new world of possibilities for storytelling within an audiovisual medium. VR as a new medium offers an innovative way to tell stories and to do film differently. According to the panelists, we are experiencing the beginning of a revolution in film.
In VR, the viewer is not passive like he or she used to be. With this new technology, the viewer can go through the story with movement, being active and making decisions. The language associated with VR is still being developed and this concept has been recently referred to as 'presence'. This leads to a fundamental difference between 360 and VR, as virtual reality is interactive. VR is about having an experience.
We strongly believe that this opens a whole new range of possibilities for film and narrative storytelling techniques. One element that we think can guide the viewer through the story is the use of surround sound. Noises coming from specific angles of the VR environment can help the viewer chose where to look next and move through the story.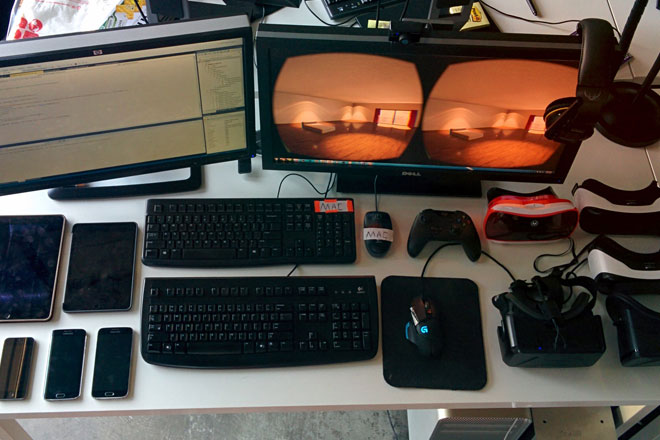 VR offers many new approaches to the way we guide the viewer through the story. Directors have to rethink how they are moving the viewer, the pacing they chose, how they introduce key elements of the plot, etc. With new possibilities also come many challenges, but the opinion at VRLA is that VR offers the possibility to be more creative, finding a different way to tell the story.
Here are some key tips for starting in VR storytelling and film, from VRLA panelists:
–     Camera movement is possible but you have to be very careful with sinuous movements because of motion sickness.
–     VR should be looked at as one person at the center, around which everything is conceived.
–     When directing for VR, you need to think of the person or viewer as the camera, and the camera is your "audience".
–     For the same reason, guiding the viewer's attention is essential — whether it is through the visuals themselves or sound design.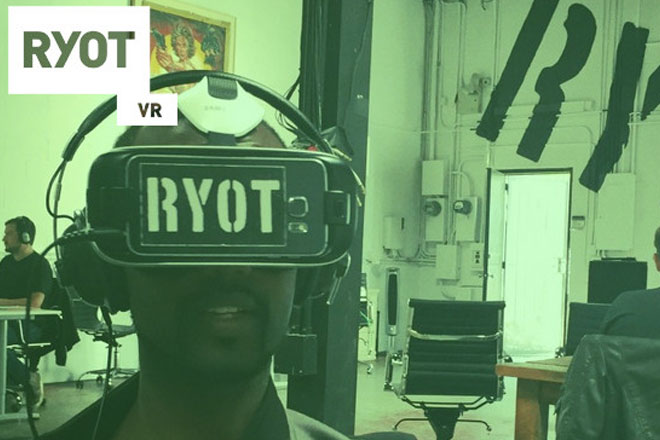 Another area that Virtual Reality has a great possibility of changing drastically is the news reporting industry. Bryn Mooser is the co-founder of revolutionary online media RYOT, which transforms the way we tell the news. He sees VR as a form of "cinema vérité", offering a new reporting style to journalists. For him and many others in the news industry, VR will represent a major change for news and journalism.
He explained that VR is about being present in the moment and in the space of VR immersion. It is an experience that is lived through the first person. In other words, "the viewer takes the place of the camera". Through this perspective, someone watching the news in VR can be a direct witness of what is happening. This offers a new possibility of touching people and opens new horizons for humanitarian actions.
We also believe that this medium will have new effects on the way we access memories, be they stories in VR film or real-time VR news broadcasts. Researchers have found that memories are geotagged in the brain and closely associated with the location in which they are made. There is therefore a possibility that this will replicate in a virtual world experienced through VR. It is very likely that stronger memories will be formed of stories experienced through virtual reality.
More tips on storytelling in VR can be found on this starter's guide by VR Dribble.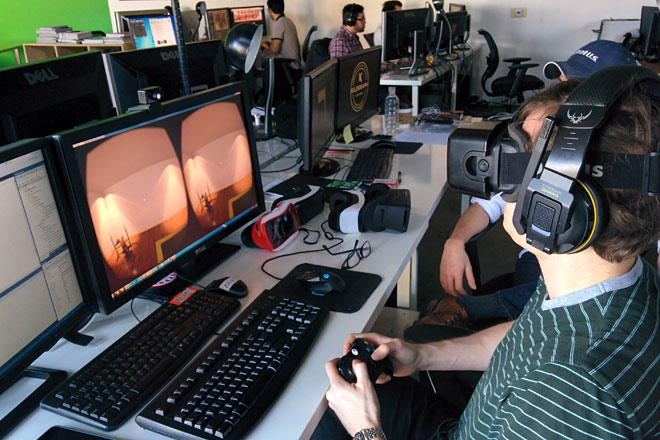 More about the panelists:
Jonnie Ross – Co-Founder, VRLA, Visionary VR
Jonnie Ross sits on the board of the non-profit Virtual Reality Foundation, and is a co-founder of the wildly successful Virtual Reality Los Angeles Expo (VRLA). He is also the founder of the Proto Awards, VR's first-ever awards show and CCO at Visionary VR. His professional history includes time as a director and creative consultant for brands like Apple and Facebook and recording artists Muse and Belle & Sebastian, among others.
Andy Cochrane – Digital / Interactive Director, Mirada Studios
Andrew Cochrane is a director for Mirada – a creative studio co-founded by Guillermo del Toro. The majority of his projects and experiences are created for the digital/interactive group, which focuses on combining the company's passion for storytelling with new technologies in mediums such as virtual reality, augmented reality, apps, installations, and the web.
Annie Lukowski – Director/Writer/Producer & Co-Founder, Vanishing Point Media
Annie Lukowski is the co-founder of Vanishing Point Media a virtual reality production company where she brings her passion for storytelling to narrative, cinematic VR filmmaking. Annie has created content for new media platforms and silver screen alike – from co-founding branded entertainment company WorkingBug Media, to her successful work in the advertising space (with brands like Jeep, teenVogue & USA Network) to her.
Andrew McGovern – Executive Producer, IM360
Andrew comes from a decade of deep and rich experience in the immersive and interactive 360 video industry. His diverse immersive programs in media and entertainment have earned an Emmy, Andys, Canne Lions, CLIOs and a variety of other industry accolades.
Bryn Mooser – Co-founder, RYOT
Bryn Mooser is the co-founder of RYOT, an immersive media company based in Los Angeles with a virtual reality studio that is one of the most prolific in the country for 360 content. Bryn has overseen the production of over 60 VR films RYOT created with some of the most well-known brands in the world, including global VR news partnerships with The Huffington Post and The Associated Press. Bryn has also produced award-winning documentary films.