How we use Aerial Photography & Cinematography for 3D Visualization
Our team just came back from a video shoot in San Jose, California, where we captured  footage for a new marketing video promoting a major development in the area. An important part of the footage consisted of aerial cinematography, which we use to integrate bird-eye views in our video.
As part of our visual approach, we often encourage our clients to include aerials in their video or rendering packages, as aerial views are an aesthetic and efficient way of presenting a new project in an environment from a wider perspective.
At Kilograph, we work extensively with Unmanned Aerial Vehicle (UAV) platforms, or drones, to create beautiful aerial renderings. We capture drone photography using the latest drone technologies, including the DJI Inspire 1, Phantom and other state-of-the-art drone equipment.
We have direct access to our own drone along with a certified drone pilot in-office, the required 333 Exemption, and CA registration. This lets us directly get the images we need to build a still image or animation. This is important because precision is key. The shot needs to directly match the camera angle that the rendering has been created at in order to create a quality image.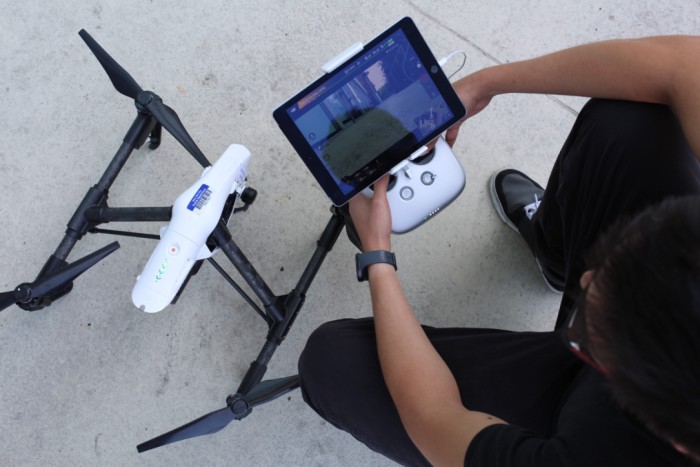 Other key areas that need to be kept in close watch while taking aerial photography are the weather, lighting, and safety. The weather impacts the mood of the shot and the ability to take safe and steady photographs. Lighting is also important. The stability of the drone affects the ability to use long shutter speeds and capture low-light photos. The camera mounted on the drone also is of importance in this area. Finally, safety comes before anything else.
Sometimes we aim to go even higher and use helicopter photography to capture unique high shots that allow us to create impressive images and make a strong impression from a perspective that couldn't otherwise be viewed. In the recent shoot in San Jose, we used both helicopter and drone photography and videography.  
Discover some of our work with aerial photography and cinematography in our portfolio www.kilograph.net/work